Although social media can be a productivity killer without self-discipline, there is one channel you should be paying attention to: LinkedIn. It's a business social network that helps you amplify your personal and company brand. Use these tips to polish your profile, sell your skills, and boost brand awareness.
1. Make Your Profile Eye-Popping
Creating a great profile is a lot more complicated than simply posting a head shot and regurgitating your latest résumé. Your LinkedIn profile is your face to the professional community, so make it comprehensive, compelling, and complete.
Craft an interesting headline that describes your job, industry or specialty, and location. If you own your company, include the company name to build awareness. If there's room, add some flair, like an interesting fact about yourself or your experience that makes you stand out.
Include keywords in your job experience descriptions and discuss your job responsibilities and accomplishments. Take advantage of the "Link to Media" area for each job description. Did you win an industry award or write an article for a professional publication? Save the clipping as a PDF and upload it to that job. It may seem easier to just include the link, but links come and go. In this context, PDFs, like diamonds, are forever. LinkedIn supports other file types as well.
Leverage photos and graphics when possible. They catch the eye and make your profile a more interesting read. Create a slide deck, photo array, even YouTube video.
Use a unique URL for your public profile. Custom URLs are available at LinkedIn, and they make your profile stand out more in search engine results. They are first-come-first-served and go quickly. For instance, "Mayfair Withersnickets" will likely have no trouble using just her name, but "John Smith" will need to get more creative. If your name is already taken, consider adding your occupation like "John-Smith-Astronaut" or other unique identifier.
Create a company page or link to an existing one for each job you've held. That gives you a nice company logo next to each position instead of the generic LinkedIn office icon.
There should be nothing generic about your profile. Make it as interesting and exciting as you are.
2. Review Your Online and Offline Networks to Solicit Connections
Once your profile is complete and polished, you're ready to focus on building and nurturing your network. Do this carefully: although LinkedIn limits an individual network to an eye-popping 30,000 first-degree connections, you may be penalized for sending out too many invitations at one time. How many is too many? Only LinkedIn's algorithm can answer that, but here's the company's invitation limit explanation:
If you've sent a large number of invitations, your account may be limited from inviting more members. This is generally due to many of your invitations being rejected or ignored by the members you've invited.
Begin by making a list of people you know and trust, and invite them to connect on LinkedIn. Here are a few ways to get started:
Give LinkedIn access to your email address book.
Scroll through your social media accounts for connections.
Review your business card stack and your offline address book (if you keep one).
Look through your work, religious, and organization membership lists.
Personalize the message when you send an invitation. Include a short, personal update on your activities and ask about theirs. The recipient is more likely to accept your customized invitation, which helps avoid activity limits.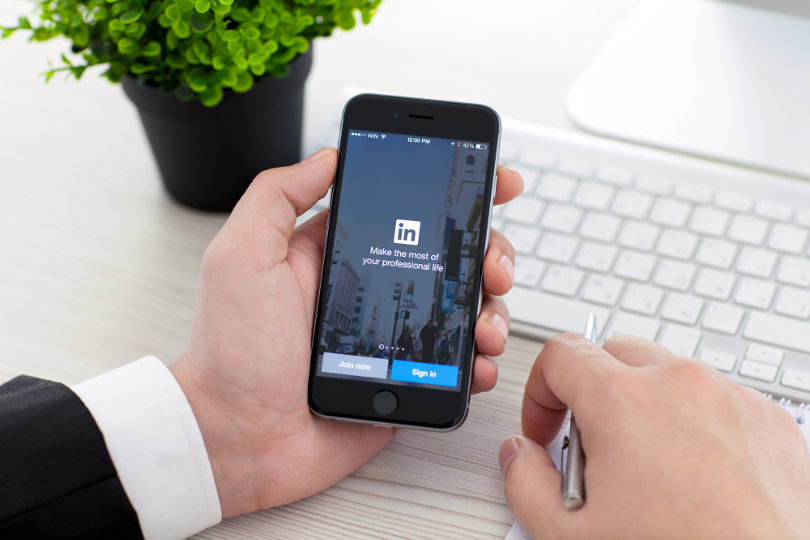 3. Ask For & Offer Recommendations
Good recommendations from your network show that other professionals like and trust your work. Return the favor and recommend the work of people you know.
It's perfectly acceptable to ask for recommendations, and the best time is right after you complete a project. Your clients will remember the details and how pleased they were with your work. Nudge them gently to review your work. Posing these questions may help them offer specifics in the review:
Why would you recommend hiring me?
What were you expecting when we worked together?
How did I meet or exceed your expectations?
4. Keep Your Content Fresh with Regular Updates
This is easier than you think. You regularly read online articles, right? Share the interesting and pertinent ones using a free tool like Buffer or Hootsuite. Frequent updates keep your news feed fresh and useful for people who visit LinkedIn regularly.
If you have a flair for writing, you can even upload your own articles and commentary. Perhaps you have a new database technique or advice for recent college graduates. Post it and invite your network to share. Additional sharing opportunities include company achievements, personal achievements, company blog articles and similar updates.
Social and professional networks are the online equivalent of the old "backyard fence," and word of mouth is the best advertising. LinkedIn offers you a terrific opportunity to leverage your professional reputation and grow your network. Take advantage of it.