I want to sell you something, again :D
If you followed me in my previous posts, you might already know that I only promote products that I use myself. What's the point to promote something you don't know the benefits of it?
As you might already know, on the Net, knowledge is power. The most expensive products on the Internet is information products – webinars, ebooks, online mentoring programs, and many more. The reason is obvious – knowledge is important, if not everything, to ace the Net.
I am lucky enough to join The Ultimate SuperTip program by Harvey Segal – Please read my previous post about this, How to Say Goodbye to Google PageRank and Start Making Real Money Online.
The Ultimate SuperTip program is abundant with memberships and information products. One of the great memberships Harvey Segal offering to affiliates is the SureFire Wealth.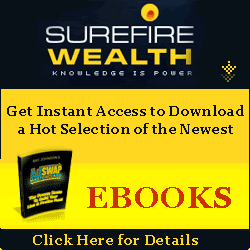 I am a SureFire Wealth silver membership holder price tagged at USD 147 per annum – Since I joined The Ultimate SuperTip, the SureFire Wealth silver membership is FREE. Actually, SureFire Wealth offers three types of membership – free, silver, and gold. The difference in each membership lies in the quality and the number of products available to be downloaded. Trust me, the quality IS different!
You are 'buried' with a collection of eBooks, audio and video downloads, softwares, and templates design. All come with a review, so that you know what others think about a product.
Why joining SureFire Wealth is a good investment? This is where my sales pitch begin :) Yes, free information is everywhere on the Net. But, like any other things in life, often, quality comes with a price tag. All I can say is that joining SureFire Wealth has bring me insider information that is invaluable. Of course, most of the information from the products is not widely available on the Net! Otherwise, it doesn't make sense anymore to pay for the membership – so far, it makes sense to me :)
And, oh, I almost forgot – Another benefit of joining SureFire Wealth is that you are enabled to resell and master resell the listed products – for FREE – as long as you still have your membership active. Depends on how much do you want it, you can literally resell infinite number of products for the whole year!
Be sure to look around by visiting my affiliate link to SureFire Wealth, or if you are eager to get your hands down and dirty, please go directly to SureFire Wealth sales page.
Just one word of suggestion – I personally recommend to to join Harvey Segal's The Ultimate SuperTip, rather than joining the SureFire Wealth directly. Why? Because being The Ultimate SuperTip affiliate is CHEAPER than joining the SureFire Wealth, and the money you pay for The Ultimate SuperTip is valid for a lifetime, compare to the yearly membership of SureFire Wealth. It's your call.
You can download Harvey Segal's The Ultimate SuperTip e-book for free. If you having interest in Harvey's concepts, do join the program to receive the valuable memberships and products.
Or, if you think you can't wait for the big fish, cast your rod directly to SureFire Wealth sales page.
Ivan Widjaya
Newbie affiliate marketer