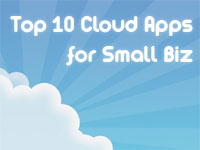 The role of cloud computing for business is more and more prominent. Indeed, cloud computing is probably the most buzzed tech today. The cloud has proven that it can help small businesses to cut costs, while improving productivity. Because the cloud is so versatile we now see cloud financial applications, project management applications, and accounting tools.
To learn more about the cloud, please read my previous article about cloud business.
New cloud applications are being introduced to small business on regular basis. There are plenty of alternatives for small business owners to choose. Unfortunately, choosing the right cloud apps for your business need is rather trivial.
To clear the mist a bit for you, let me offer you a list of cloud apps I recommend (not in particular order):
Google Apps for Business: Google is the household name, and it has all needed to offer a reliable and secure online office tools – even before the cloud is as popular as today – Google Docs, Google Calendar, Gmail, etc. – you can access all of them in a secure and private environment with 24/7 support. The "personal" version is free, while the business version is offered at $50 per user per year.
Skype: Forget the latest historic downtime – Skype is one of the most trusted and reliable cloud-based companies offering free Internet call, with Pay As You Go and subscription-based plans to call on any phones to meet your small business needs.
SalesForce: A household name in cloud computing for customer relationship management (CRM.) Also one of the front-runners in the cloud, SalesForce is growing its arsenal of cloud apps: Sales Cloud, Force.com, Service Cloud, and the latest, Database.com. SalesForce can help your small business to manage everything related to your sales-generating activities in a centralised "dashboard."
Basecamp: One of the leaders in online collaboration and project management. It can help your stakeholders to discuss, update, upload/download, share – anything you can think of – in one single web account, in real time. Basecamp claims that there are over 5 million people worldwide who are using it.
Quickbase: This online database software can help your small business tech team to create online database application from scratch or use more than 200 templates. Don't have someone to build database app, yet? Intuit's Quickbase can recommend you one of 160 partners to help you out.
Box.net: A cloud storage service provider allowing you to share, manage and access files and folders online in a secured and private environment. You can also collaborate to update documents on the fly with your business team members or clients.
Outright: If you are like me, you'll gonna like this cloud finance app – Outright will help you with your business accounting by allowing you to track income/expenses, tax obligations, and profits/losses in real time, online. No more hiring/firing bookkeeper for your business finances.
Evernote: I call Evernote a "cloud reminder" or "cloud scratchpad" if you will, simply because of what it does best – it helps you to store your ideas, notes, reminders, schedules, to-dos, audios, images, videos, etc. for you to recall and review later on.
Mozy: The industry leader for online backup of any kind of data and information – images, documents, audios, etc. You can use Mozy cloud app to back up your entire business, regardless of your business' size. With Mozy, you are not location-constrained – you can backup and access your backup remotely.
Eleven2: Cloud hosting is great to host your small business website because it's on-demand and scalable – in real time. You are guaranteed service availability due to the nature of the cloud – no issues regarding a sudden surge of web traffic to your site. You can switch plan anytime you want, without service interruption.
I recommend you to make use of the free plan or free trials offered by the cloud apps – trying the services is the only way to make sure that you choose the best for your small business. If you would like to learn more about the cloud, log on to my cloud business review blog for cloud business reviews, trends and tips.
Do you have any cloud app recommendations? Please do so by leaving a comment to this article.
Ivan Widjaya
Cloud apps for small business