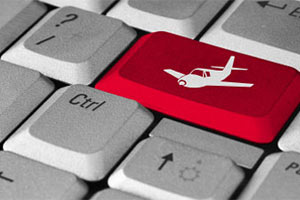 Traveling on business may take you out of your element, but it doesn't have to grind your productivity to a halt. If you're one of the many business travelers who anxiously daydream about paperwork stacking up, sheet by sheet, on an office desk far away—keep reading. If you've wasted too much time booking too many flights, or stayed in too many crummy hotels (I think you get the point), read on. There are plenty of apps available to make business travel easier, and the five I'm about to mention are free and cross-compatible across computers and many smartphones, so all of your information stays organized and on-task. Are you ready to enjoy business travel again?
Kayak.com
Mobile App: Free | iPhone, iPad, Android, Nokia, Windows, and Palm
If you've ever pounded your head on the desk over airline booking, this site is sure to give you some relief. Kayak.com, formerly known as Sidestep.com, has done the dirty work of combining airfares from hundreds of travel sites. Perhaps the most welcome aspect of Kayak is its intuitive search options.
For example, most travelers would gladly be flexible on their travel dates and locations if it saved a few hundred bucks; so Kayak gives users that option and shows prices for a range of days and nearby airports. Narrow down flight options with as many criteria as you can think of; number of stops, layover durations, cocktail menu choices (that last one might be wishful thinking), but you get the idea. The site's slogan, "search one and done," also applies to hotels and rental cars.
TripAdvisor
Mobile App: Free | iPhone, iPad, Android, Blackberry, Windows, Nokia
Traveling to new cities can be exhilarating, until you sink into your not-so-clean hotel linens with some not-so-fresh takeout from a nearby restaurant. Why choose an unsatisfactory hotel, restaurant, or attraction when so many have made that mistake before you? That's what TripAdvisor is for—it's like a pocket local who can tell you all the insider secrets about a town.
Where to stay, what to eat, and how to entertain yourself are all covered in this site, which travelers use to rate and review their experiences—for better or worse. Whether your business in this new city is fun or mundane, you can at least enjoy your stay after hours with this app.
Skype
Mobile App: Free | iPhone, iPad, Android, Blackberry, Nokia
Ever try to call somebody in an airport? Sometimes a wi-fi or 3G internet connection is the best you have to work with, so you should have an app that works with you. Skype, widely known for video conferencing, is also an indispensable tool for instant messaging (IM) and teleconferencing or voice calls. One Skype account can be used across all of your devices, storing all IM conversations in one program.
If you're remotely working with a team back in the office, you'll appreciate the screen-sharing capabilities, so you can always be on the same page. If you plan on doing as little work as possible while traveling on business, you might not want this app—it makes communication with coworkers way too easy.
Dropbox
Mobile App: Free | iPhone, iPad, Android, Blackberry
You can't go wrong with a product slogan of "simplify your life." That's just what Dropbox offers—a simple file-sharing system that allows you to access your files anywhere you have internet access. That means you can upload your big presentation before you leave the office and download them onto the computer you're using behind the podium five states away.
Or, you can continue working on "the big project" while you're out so you don't get behind. If that project is with a team, get everyone in the same account so you can review each other's work from afar. Once you finish the project, email it to your client to download with the click of a link. With Dropbox, you can eliminate the obstacle of email size restrictions, and work can continue out of the office.
Evernote
Mobile App: Free | iPhone, iPad, Android, Blackberry, Windows
Travel is a combination of rushed hustle-and-bustle and absolute dead boredom, but rarely any happy medium between the two. Whether your best ideas come to you in the hectic meetings or while staring blankly at the airplane food tray, Evernote is a sure way to make sure the ideas get safely filed away for later retrieval. "But I have this napkin," you prolcaim. Does the napkin sync automatically between your phone, laptop/tablet, and office computer? (If it does, you might want to hang on to that)
Evernote isn't just a tool for note-taking, though it does that very well. It also lets you add pictures and audio notes-to-self, so the result is a rich collection of thoughts, sights, and sounds. Did I mention that it syncs across all of your devices? Don't let yourself get disorganized when you're out on travel—keep your thoughts together with this handy app.
About the author: Chris Turberville-Tully is a marketing strategist for Conference Genie, a resource for business services including video conferencing, answering services, conference calls and more.