When it comes to business operations, automating processes is critical when you consider the impact on your bottom line. Automation simply makes it possible to get more done faster, including converting leads into paying customers. Automation also ensures that you're in constant contact with leads with a target of bringing them around to conversion.
In this article, we'll delve into 5 sales tools that are making waves in the sales operations automation world.
1. HubSpot
HubSpot is a platform centered around inbound marketing and sales. All of the platform's tools are designed to help users attract visitors, convert leads, and close customers. This comprehensive sales management platform includes tools such as HubSpot Sales Free, HubSpot CRM, and HubSpot Sales Professional.
HubSpot Sales offers notifications when emails are opened and clicked in Gmail, Outlook, and Salesforce via a Chrome extension. Snippets lets users recycle short bits of text when emails are being sent from pre-stored contact, company, and deal records. Workflows lets users automate email blasts, task creation, prospect assigning, and more.
As you can see, this is a valuable tool for any company wanting to streamline business operations and get more done!
2. Gopher Leads
Gopher Leads is a highly rated platform that merges lead management and CRM into one solution dubbed as "referral solution." Gopher takes a novel approach to lead generation by crowdsourcing leads from all employees in a given company. When an employee submits a lead that becomes a sale, they are rewarded for their efforts by the company.
Gopher offers an amazing value to businesses of all sizes who need assistance running referral campaigns, gathering leads, and following-up with them. Gopher Leads is designed to help sales professionals maximize their efforts with real-time reward tracking, simplified lead capture with geolocation and voice notes, effortless payouts, and a dedicated Gopher Leads representative to help sales pros hit their goals.
The platform offers an effectively-designed dashboard with intuitive lead routing, analytics, lead tracking, sales pipeline overview, and much more. Companies find that by allowing all workers to share in the victory of new business, they can greatly improve morale, communication and efficiency.
3. LinkedIn
LinkedIn is more than just another social media network. It's the best online place to meet other professionals, and with their Sales Solutions, you can easily target LinkedIn's 450+ million users.
Tools within LinkedIn Sales Solutions include Sales Navigator. This feature makes sales prospecting a simpler task by providing recommendations for leads, InMail access, a comprehensive analytics dashboard, and sales updates.
Of course, you can always use Advanced People Search for free. This is a great way to more easily reach your target audience and find specific leads on LinkedIn.
4. Salesforce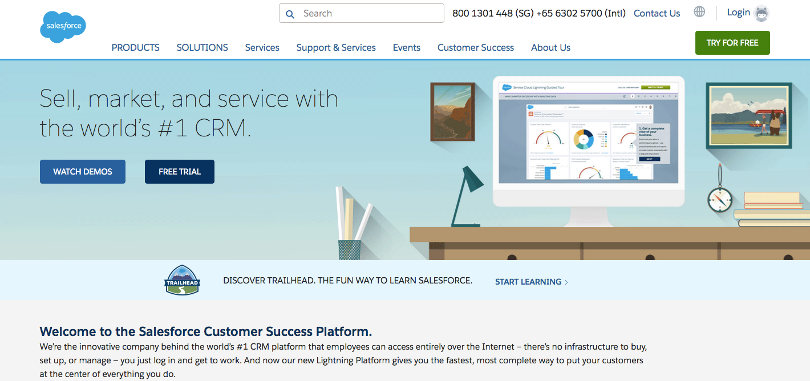 Salesforce is the premier CRM platform, offering cloud-based tools for everything needed to manage sales, marketing, service, and more. Salesforce offers a staggering amount of solutions that start at just $5 per month, meaning that smaller businesses can get started easily with Salesforce and scale up as needed.
Sales Cloud, Marketing Cloud, and other "branches" give users everything they need to manage sales and marketing.
If you're looking for a powerful way to manage your business operations, Salesforce is a viable option for all of your automation needs.
5. InsideSales.com
Leads are the lifeblood of businesses, as we're sure you well know. Obviously, the time spent on getting leads is larger in ratio to the conversions that come from it, and many companies have turned to lead generation automation to reduce the amount of time manually spent on gathering leads.
With InsideSales.com, users get a platform that helps them build a lead pipeline, close deals, and grow relationships. All of these processes help increase the chances that a lead will convert over time, and even though a lead might not become a paying customer the first time around, InsideSales.com can help increase the odds that they'll become a conversion later down the road.
Conclusion
We're almost certain that you've already heard of all of these platforms, but we hope this article sheds light on the comparison between these similar but vastly different sales and marketing management platforms. No matter the size of your company, you could easily benefit from any of these platforms.
Depending on your specific needs, you'll likely find that there's one or two platforms that stand out from the rest. For instance, if you want to tap into leads who might already be a part of your professional network – or even a part of your extended network – then LinkedIn offers amazing opportunities. If you need a full lead generation and CRM platform, then Gopher Leads would be the best choice.
Identify your needs, pick the right tools, and start streamlining your business operations.